Tired of the same old Pizza Express party, booked area in the Slug and Lettuce, or dancing in your office next to the printer?
At Mask we don't get our Christmas party until January, but that means we have even more time to dedicate to you to create the best Christmas party you'll ever have. We've created Enchanted Forests, gone all out at the Dorchester, had a blast from the past at Victorian Bathhouse and even brought some fairy tales to life.
Sometimes it can be a little samey and pretty pricey, but Christmas parties are amazing if they're done right, so lets start with finding you something a little different – here are our favourite alternative Christmas party venues.
NOT JUST FOR CHRISTMAS
Last Days of Shoreditch
They're rolling out their roof and making this place winter proof. LDOS will be stoking the fires, rallying your favourite street food traders, shaking those cocktails and prepping those playlists. There are eight different rooms up for hire, or if you've got the whole company involved the entire space can be hired for up to 700 guests. Their Christmas season starts late October (anyone there for Halloween we wonder?) and runs through to 23rd December. Plenty of time to get a little bit hipster.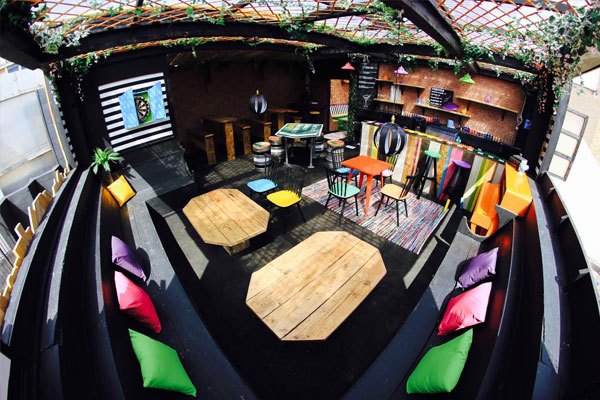 Photo from LDOS
Dinerama
The original Street Feast is still a firm favourite, and they too have a roof to their open air set up so you can avoid the rain and lower temperatures at your Christmas party. Dinerama holds up to 1000 people if booked exclusively, so that's five bars, 11 street food stalls and a DJ. Or for smaller groups you book just upstairs / downstairs and there are smaller areas too. The street food vendors change regularly but we're hoping Prawnography will stick around for Christmas, who doesn't want an Australian-style Christmas (it's a shrimp on the barbie after all, hohoho)?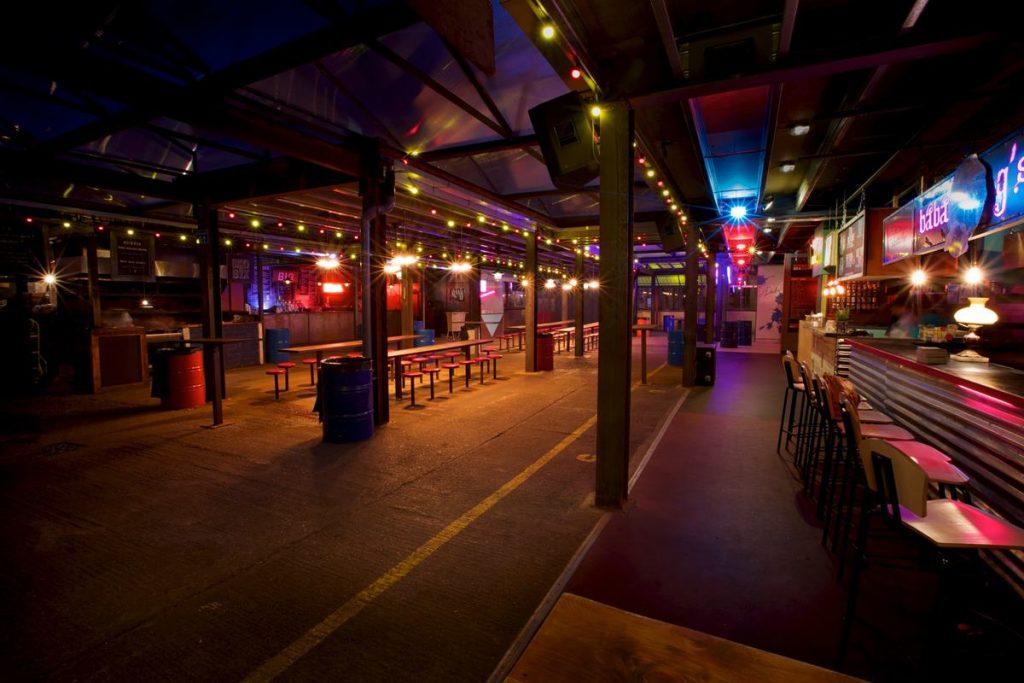 Photo from Hire Space
READY, SET, PLAY
Flight Club
No fighting here, but darts instead. Don't worry if you've not played before, you'll be able to have a few practice runs ahead of your game and they've put lines on the floor so newbies can get closer to the board (like the equivalent of bowling bumpers). If you're really keen on a tournament, there's a gamesmaster to keep score. There's also a helpful hosting crew who will bring you food and drinks right to the dart board. To top it all off, this place is deceptively large – it has capacity up to 400! You can choose from Bloomsbury or Shoreditch (or Chicago if your budget is astronomical).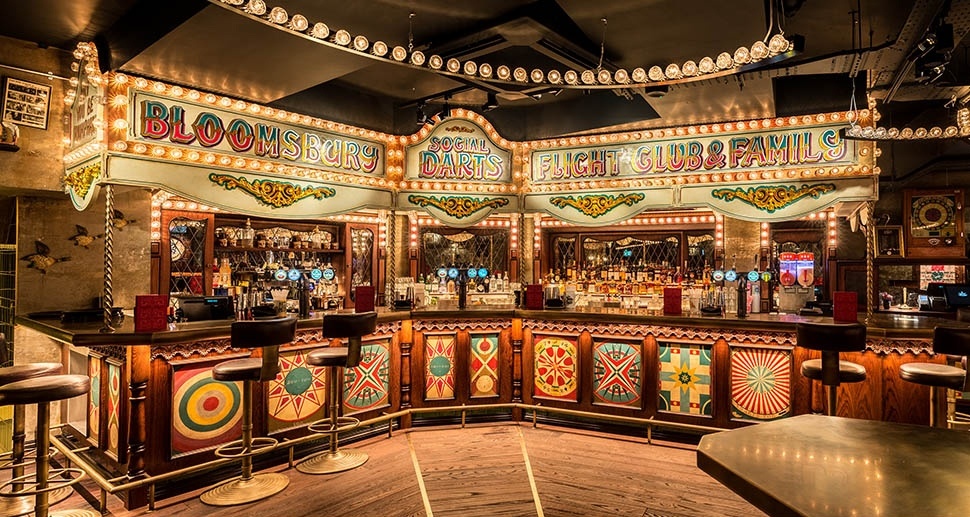 Photo from Flight Club
Baranis
Blink and you'll miss Baranis; in fact you'd walk right past the road and end up somewhere else entirely. This little underground bar is very French, so very French there's even a pétanque court. Pétanque is similar to boules, there's not a lot to master so you'll have fun whether you can play properly or not. And if it's still not grabbing you, the cocktails are herb-infused, the wine list is French (we wouldn't expect anything less) and the food is French inspired – Provençal popcorn, anyone? This place is a must for smaller party sizes that are looking for a certain je ne sais quoi.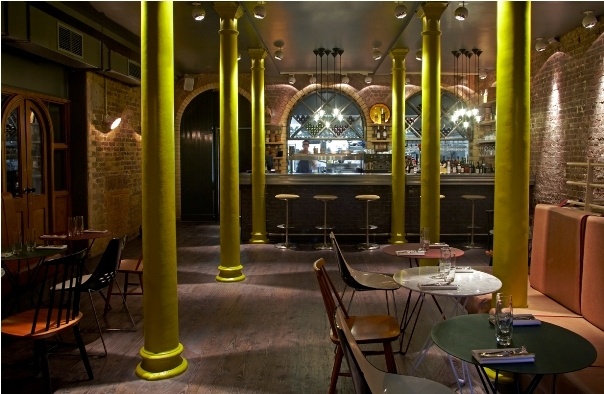 Photo from Londonist

THAT'S ENTERTAINMENT
Circus
Cabaret and cocktails? Check! Circus has been doing the rounds for a while now, but it never fails to impress. The restaurant can fit 140 dining guests, including 28 at the centre stage table. If you're just after canapés and cocktails this capacity increases to 300. For Christmas the Pan-Asian menu is converted into a three-course meal (rather than the usual sharing platters). The entertainment swings in short bursts, so you'll be in the midst of a mince pie and then a fire-breather will appear.


Photo from The Nudge

The Piano Works
If acrobats aren't your thing, but live music is then The Piano Works could be for you. This bar in Farringdon holds 400 people and refers to itself as a human duke box. The musicians always take requests, so you can probably expect a few Christmas songs thrown in. Their Christmas packages include catering so you've got options between buffets or sit down meals. There will of course be live music, anything from jazz to rock, blues and pop and enough room to have a dance.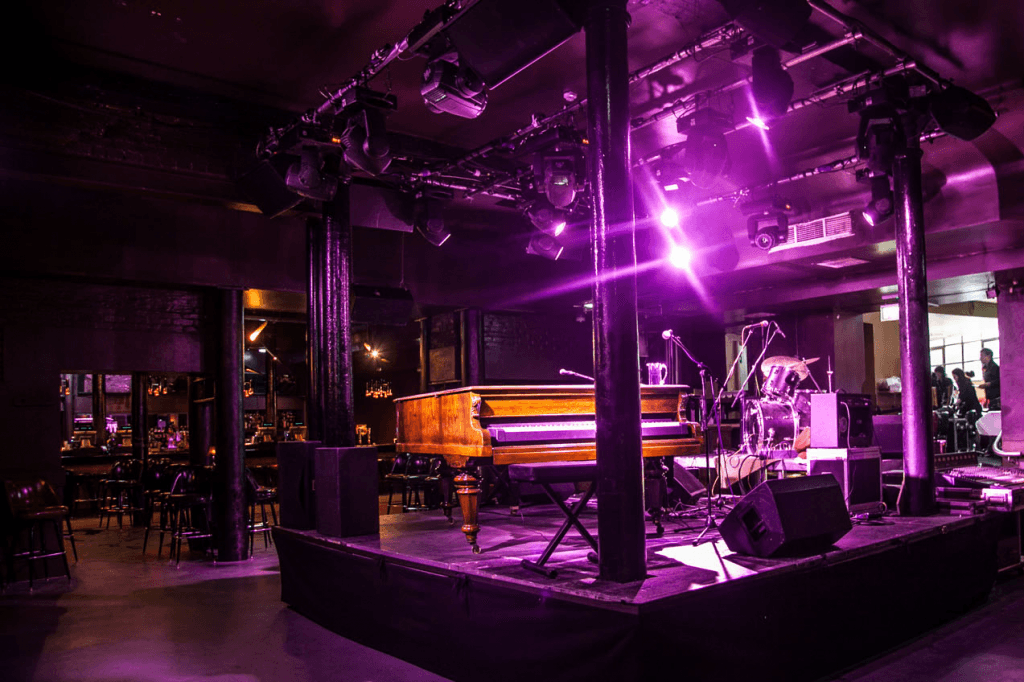 Photo from Evening Standard
None of these tickling your Christmas fancy?  Don't worry we've got plenty of other tricks up our sleeve. We'll help you with cracker photo booths, delicious Christmas cake, fake snow… or even a polar bear (shhhh it's not real, instead it's manned by two men)! And if you don't want it Christmas themed, we're ok with that too – we can get you glitter artists, the best entertainers and all those finishing touches.
Get in touch today to see how we can help you with your Christmas party.