The set up
The Veuve Clicquot Widow Series is an annual immersive event held in London. The series celebrates the legendary Madame Clicquot, who transformed her husband's champagne business in October 1805 after he died. Veuve (meaning widow in French) Clicquot became the brand we all know and love today.
The series gives influential creatives the opportunity to express themselves in ways which emulate Madame Clicquot's passion. Carine Roitfeld's, former Vogue editor and general fashion guru, had a vision to create seven interactive realms to celebrate Veuve Clicquot. Supporting her on this mission was Patrick Kinmonth, internationally acclaimed set director and costume designer. Finishing off the dream team is Antonio Monfreda, known for his work with Fendi.
This year was the Seven Deadly Sins, which took place in a four storey townhouse in Islington. Guests were invited on a journey to explore the space and interpretations of the seven deadly sins.
What we thought
On arrival we received a glass of Veuve Clicquot served by "widows" dressed in black Tom Ford attire. With our glasses in hand we set off through a mirror maze, and down a staircase filled with tiny delicate butterflies. Not being sure when and where the sins would start, we assumed that the mirrors could have been pride. For the following hour we tried to work out which installation matched which sin – some more obvious than others, and some so avant-garde we were left questioning what was going on.
Gluttony
Gluttony was an easy one – it hit your nose before your eyes. Two huge glass tanks were filled with tons of food slowly decomposing. The majority of the smell was being filtered through extractors out of the building, but there was still a definite aroma filling the air.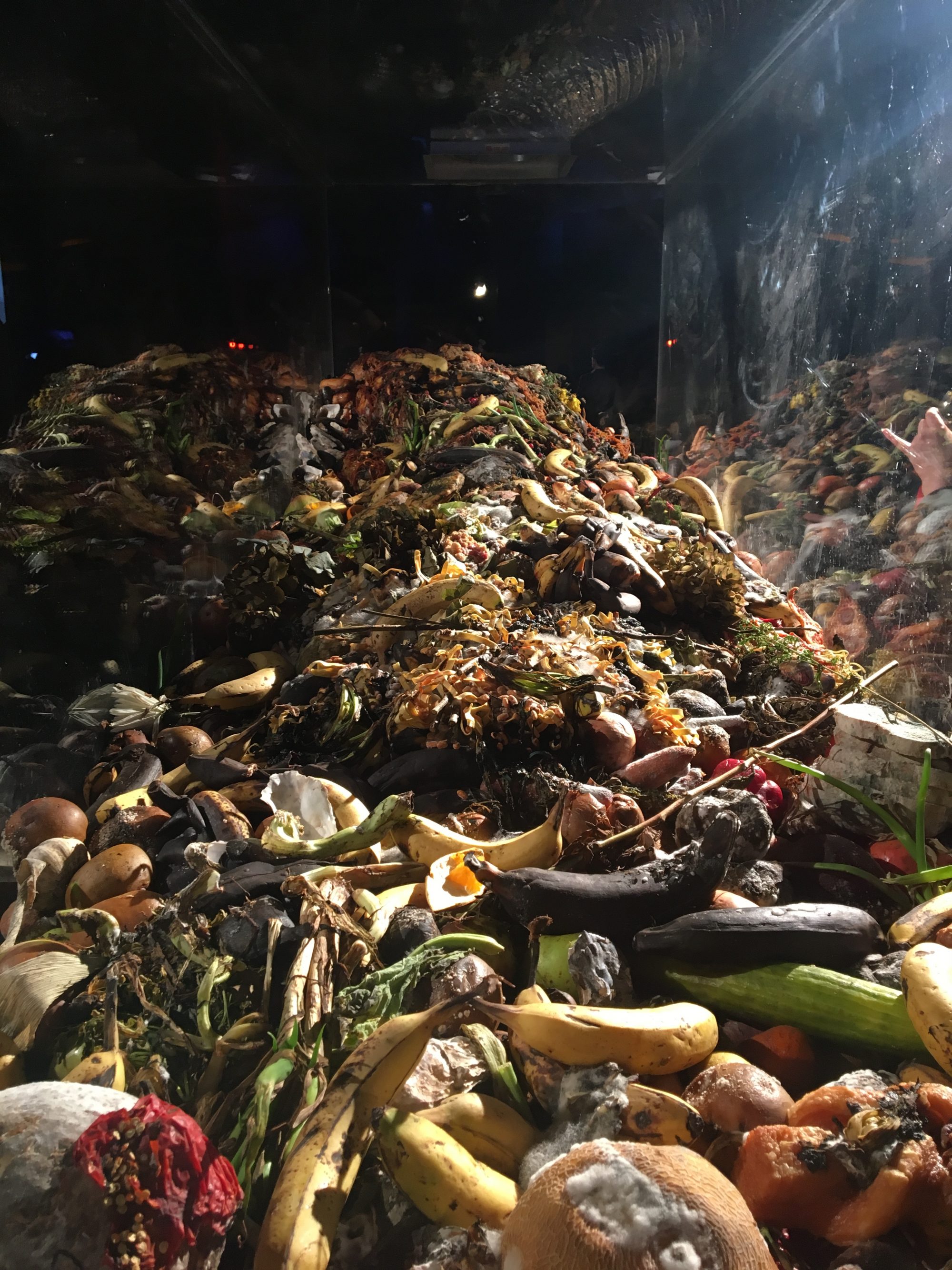 Greed
Next we walked through the tunnel of greed, with hands grabbing and grasping at you and refusing to let go. While try to avoid one hand, you'd be caught by another on the other side.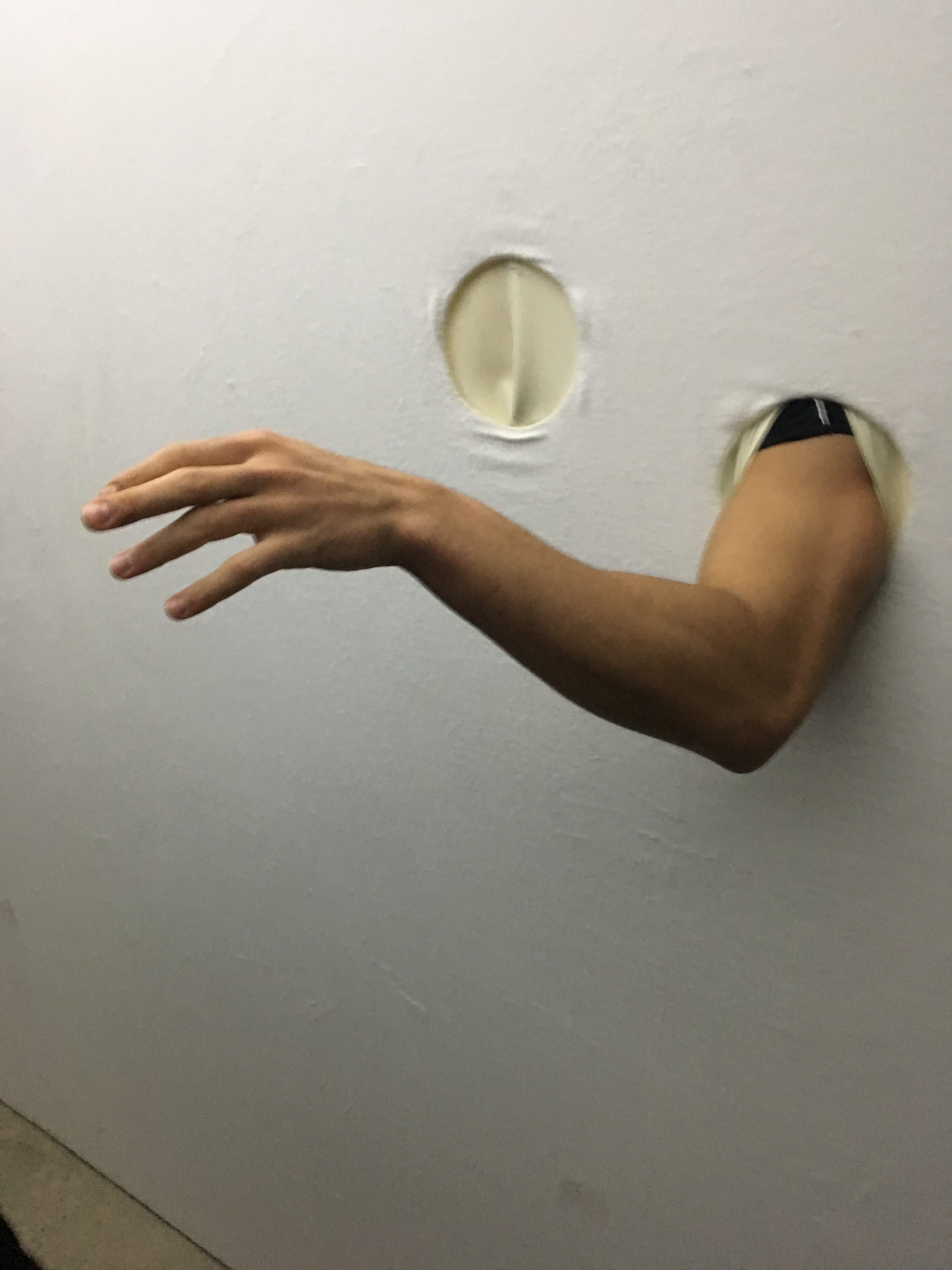 Pride
Pride, we presumed this was the mirrors upstairs, but then after seeing a long banquet table with two extravagantly-dressed people, we weren't so sure. The man had a confident peacock-like stance and repeatedly checked his appearance, straightening his suit and cuffs. The woman at the other end was relentlessly fixing and amending garments.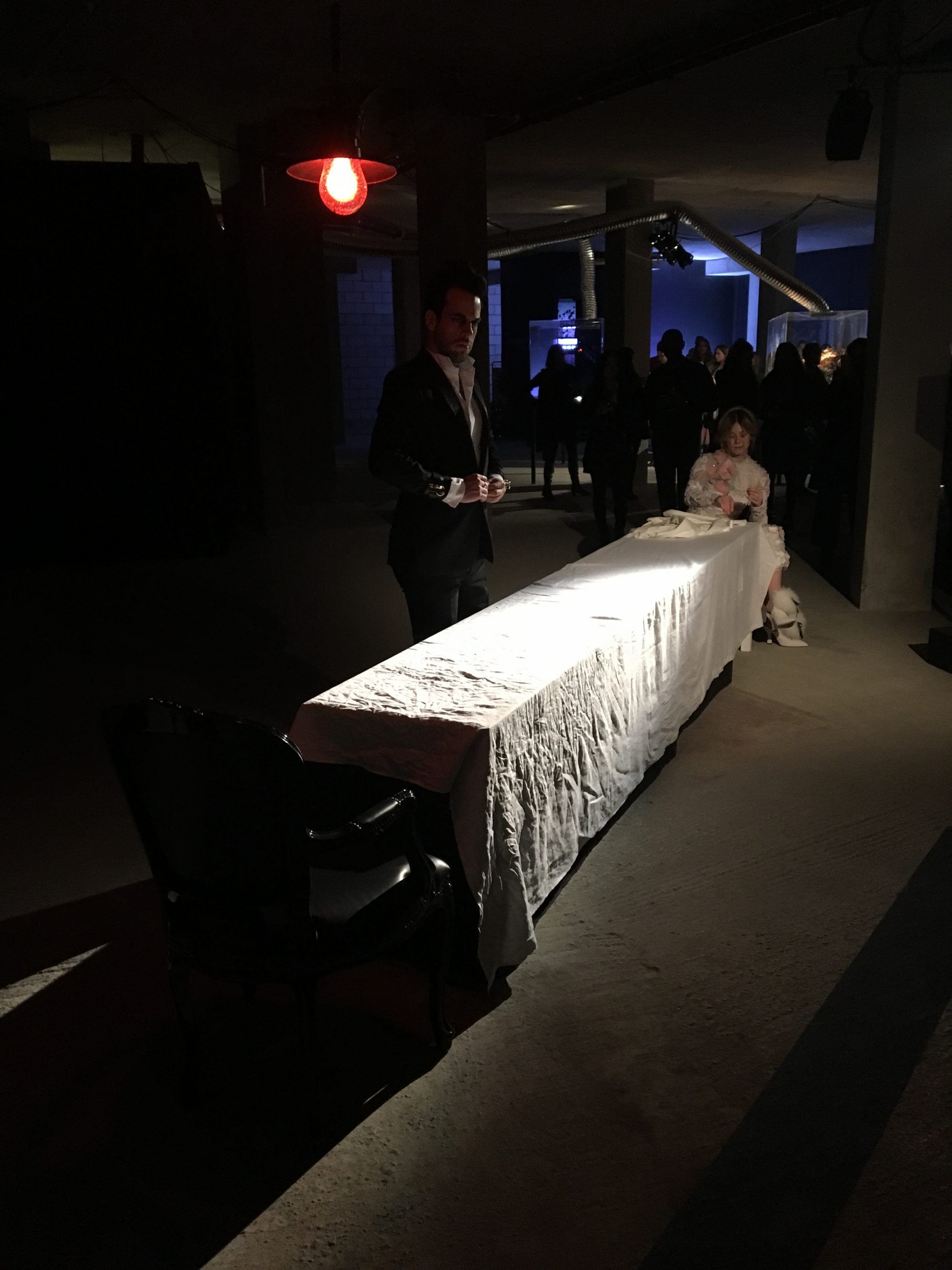 Envy
At the centre of it all was a huge atrium which could be viewed from every floor. At the bottom, people walked back and forth, stopping momentarily to raise their hand and then carry on in their trance. We had absolutely no idea what this was supposed to represent, but a quick Google explained that the people symbolised widows and their envy of everyone around them. American fashion designer, Rick Owens, had designed their outfits.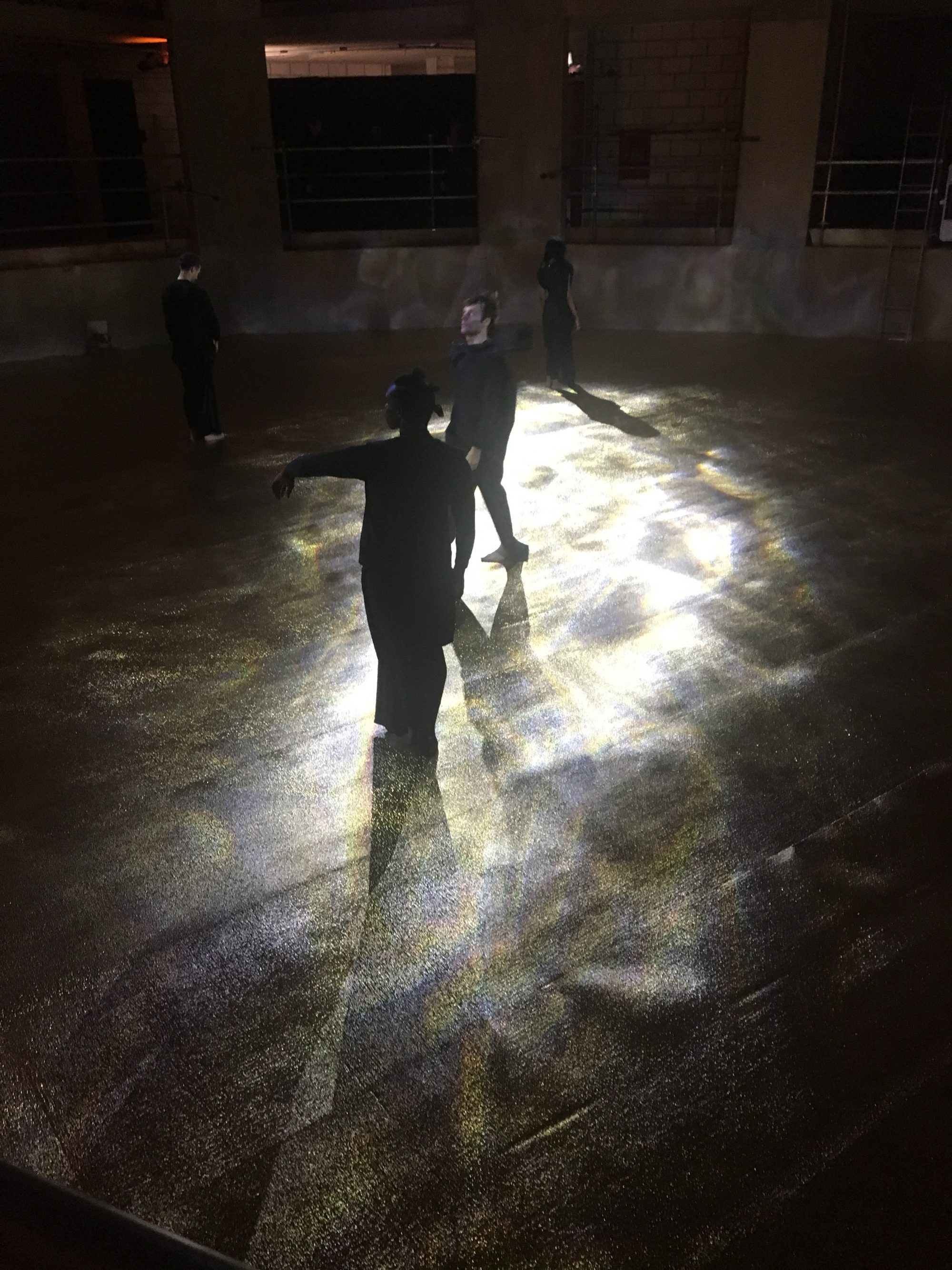 Sloth
Sloth was depicted by someone sandwiched in a pile of mattresses – the arm and leg poking out twitched every so often. Surrounding the mattresses was a trail of hand-written notes on the ground, pathing the way to a tiny door. We've still no idea what that bit was about!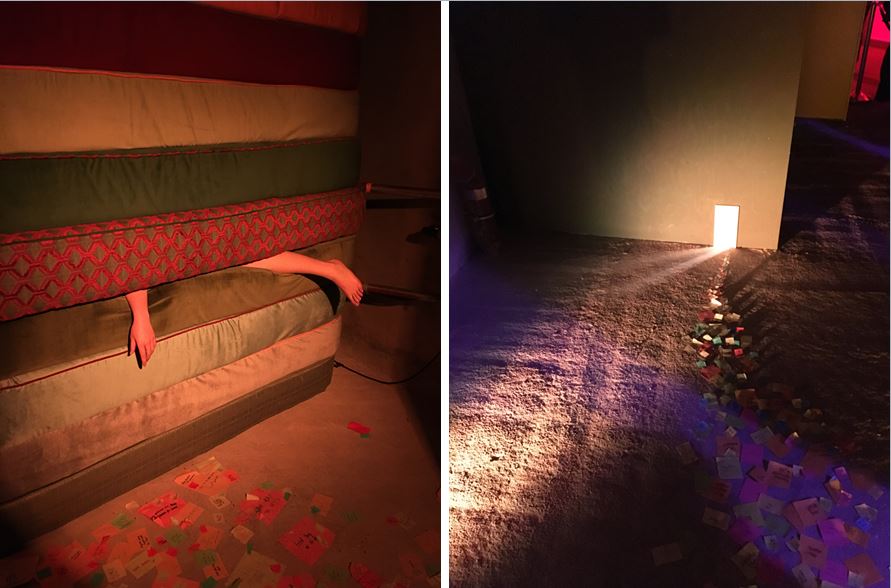 Lust
A woman in a head-to-toe red latex suit moved around a circular room flooded with red lights. The walls were translucent and had people on the other side reaching out for the woman.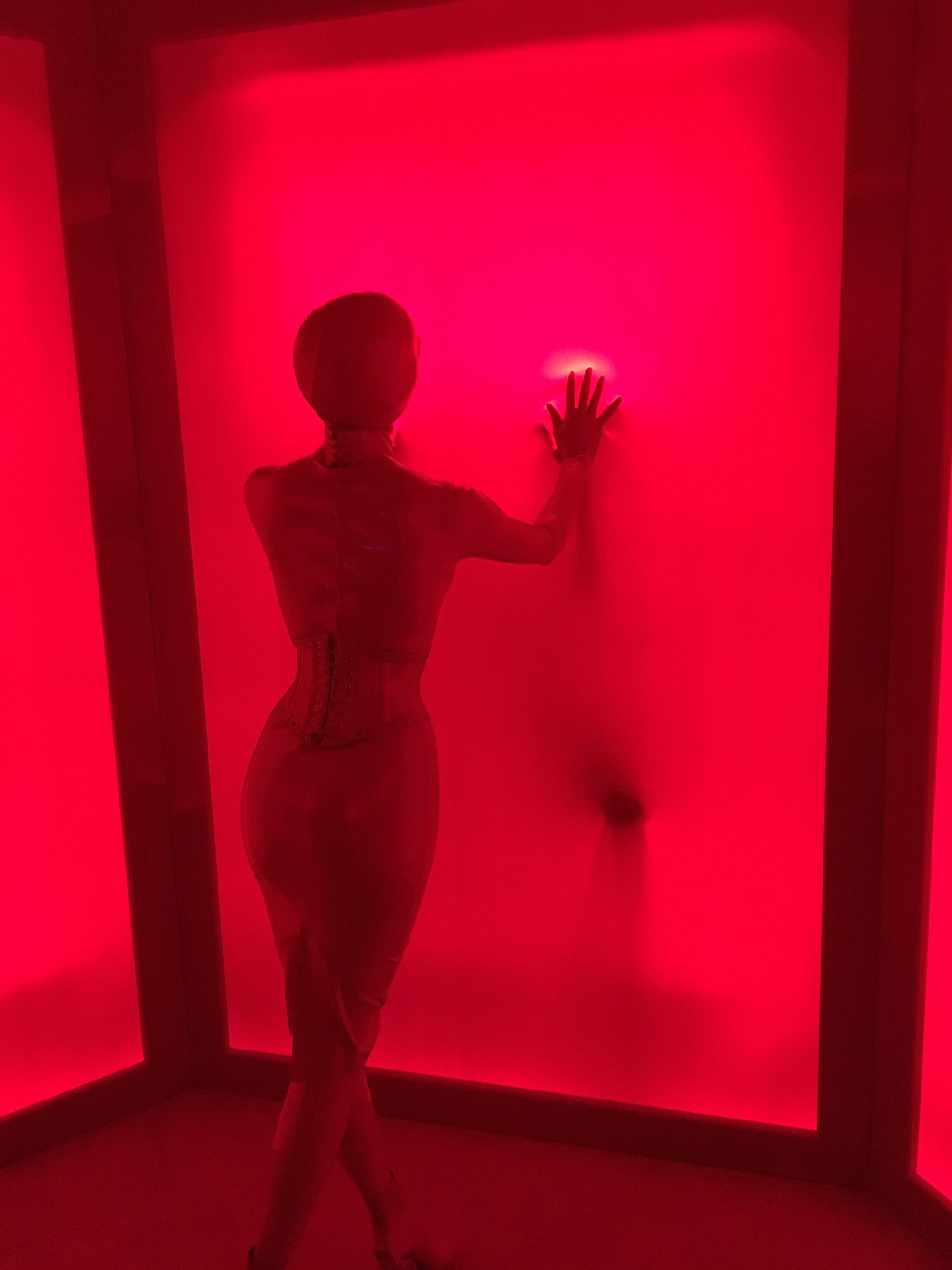 Wrath
We couldn't identify wrath. We re-questioned whether we had matched the other sins correctly, but couldn't find this set up. After we'd left we discovered this had been a secret installation by Gianvito Rossi and Fendi. Too secret for us, but it didn't make us angry so no wrath for us.
So we left a little confused, intrigued and impressed. Next time we're celebrating with a bottle of Veuve Clicquot, we'll definitely be sharing this experience. Did you go along? Let us know what you're up to on Twitter! If you like this blog, you'll love our newsletter, sign up here.