We know that it's always important to find a venue that brings something fresh and new to the table; you don't want to go with the 'same old' and risk your event going unnoticed. At Mask we are always on the lookout for unique venues  and we've put together a list of our favourite conference spaces with a twist; they're as quirky and unique as you could ask for. Thanks to these unusual alternative venues, you can make your corporate event truly stand out from the rest.
The Wren Suite (St Paul's Cathedral)
The Wren Suite in St Paul's cathedral is a great, gothic meeting space in the heart of the capital. It combines the grandeur of Sir Christopher Wren's masterpiece with some much-needed 21st Century comforts and technology. With its vaulted ceiling and golden stone walls, the Wren Suite is also a great setting for an elegant drinks reception or an intimate dinner. The venue can accommodate 70 people theatre style and up to 100 for a standing reception. The space also from profits from a vestibule, which can be used for refreshments and buffet lunches.
Bankside Vaults
If you're looking for a Blackfriars conference venue consider Bankside Vaults, a vast event space which is also known as super-club Pulse. The venue is located at the foot of Blackfriars Bridge, making it an easily accessible choice for your delegates. The venue provides a great blank canvas space which is easily adapted for any occasion. The venue can be divided into several areas and comes complete with two entrances, each with their own cloakroom and toilets. The venue can accommodate up to 2,000 guests.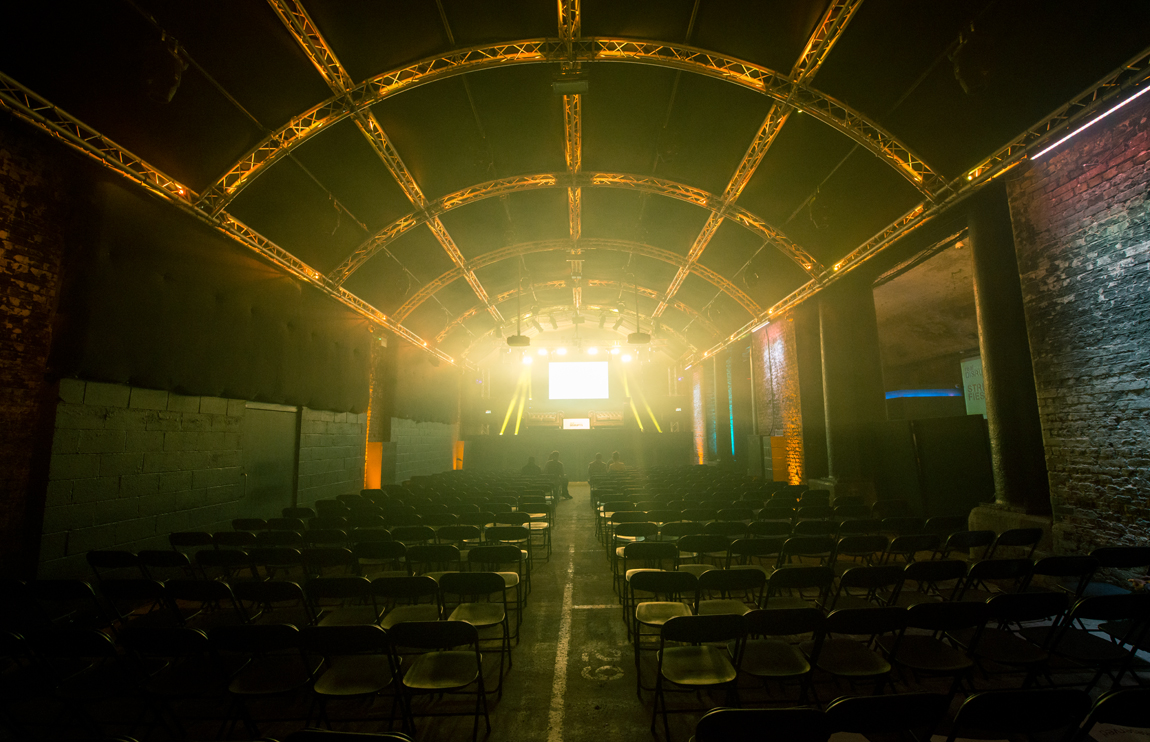 t51
Royal Yacht Britannia
When looking for a unique venue to host an exclusive corporate event, the Royal Yacht Britannia should be on the top of your list. Once the former floating Royal residence of Her Majesty the Queen, the space has been converted to hold 196 guests for a sit down dinner or a drinks reception for up to 450 people. A variety of dining experiences are on offer with all food freshly made on board.
Blenheim Palace
Step back in time and discover the 300 years of history Blenheim Palace has to offer at your next event. The space is only 20 minutes away from Oxford, in Woodstock, Oxfordshire.  The palace itself has more than six venue options for up to 500 guests, however for bigger events the South Lawn of the palace can accommodate marquees for up to 2,000. This is a generous space for those big events. The venue is perfect for those who want to plan an event that's fit for royalty.
Haberdashers Hall
Haberdashers Hall is the UK's newest Liver Hall – it was opened in 2002 by none other than Queen Elizabeth II. The hall is the perfect space for majestic events. The Livery Hall can accommodate up to 350 guests and boasts a central London location; it's one of the most distinctive and easily accessible places to base your next event.
Harry Potter World
Let your guests feel the magic by hosting your event at one of the most intriguing venues in the UK, Harry Potter World. With a capacity of up to 1,000 people, the iconic film set will leave your visitors lost for words. You won't have to head to Platform 9 ¾ to get there either – the Warner Bros Studios is located in Leavesden, Hertfordshire, close to the M25 and easily reachable from London. Guests will love this unique event space.
The Brunels' Tunnel
The Brunels' Tunnel is a fascinating underground venue which never fails to impress. Guests are led to the space through a secret underground tunnel. Up to 200 guests can be accommodated in the private roof garden above the Grand Entrance Hall, meaning it's perfect for small events. The Brunel Museum and tunnel can be found in Rotherhithe.
Houses of Parliament
Nothing beats a historic London landmark like this one. Hosting a conference inside the Houses of Parliament will make it a once in a lifetime experience for your guests – they'll be blown away by the incredible location and stunning views across London. The Houses of Parliament have up to 10 venues, catering for between 14-200 guests, depending on the venue chosen.
The Farmiloe Building
Featured in blockbuster films like Sherlock Holmes and The Dark Knight, this Clerkenwell building offers great spaces for conferences. The venue is located in Islington, within a Victorian building dating back to 1836. Home to George Farmiloe & Sons for over a century, the building has a capacity of up to 600 guests. The Farmiloe Building is a unique place to hold a spectacular event and amaze guests.
If you're looking for unique venues for your next event, be sure to get in touch with us and we'll find the perfect space, just for you.
Make sure you sign up to the Mask Newsletter, designed to give you insight into how our minds work, our latest events and cultural happenings.