Blank canvas venues are brilliant; you can usually do whatever you like with them (within reason!). But all too often a blank canvas venue remains just that, a blank canvas. Vast open spaces and plain walls can be great… if you've got the cash to splash to make that idea become reality. More often than not a blank canvas will be half dressed, or not at all.
We're always really pleased (and excited) to see a venue who makes the most of their blank canvas status. The team behind The Vaults at Waterloo are absolute pros at this. Transforming their space from event to event is always high on the priority list, and they've set the bar very, very high.
Alice's Adventures Underground
Over the summer, (and after a successful summer previously), 33 rooms of The Vaults were magically transformed into Alice's Adventures Underground. This mixed-up, crazy, upside down world was the elaborate creation of Samuel Wyer from Les Enfants Terribles for the immersive theatre production that took London by storm.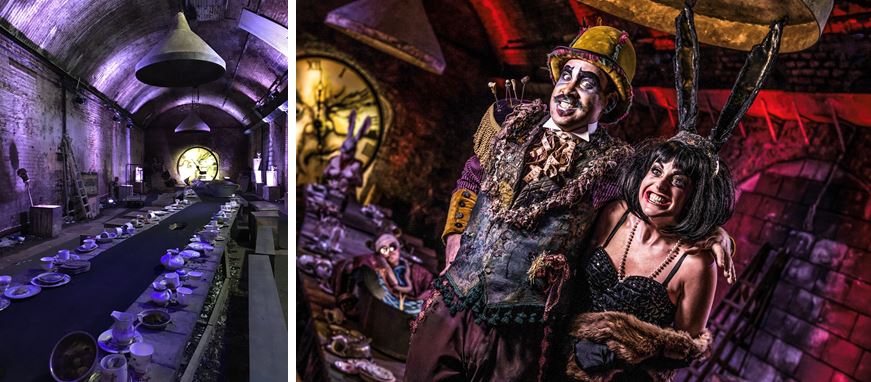 Second photo from Les Enfants Terribles
Beauty and the Feast
Following on from this is Beauty and the Feast. An interactive and curious dinner party hosted by immersive designers Darling and Edge (also behind the designs at Gingerline events and the bar at Alice's Adventures Underground – are we beginning to see a pattern here?), so the backdrops and theming are top-notch. They decked an the cavernous rooms with a multitude of chandeliers and velvet drapes, hanging over long dining tables that would be filled with guests.

Photos from Design My Night and Time Out
Asics
For one day only in August, The Vaults partnered up with ASICS who transformed their connecting tunnel into a running track, complete with reactive LED lights.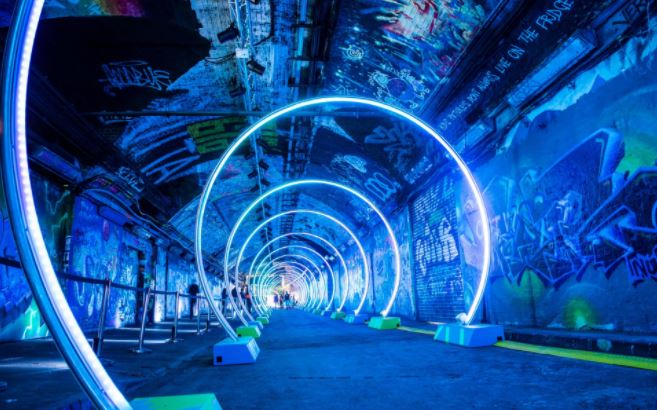 Photo from Telegraph.co.uk
Halloween and Day of the Dead
Throughout October the other side of The Vaults was dressed for Halloween. A series or connecting rooms were filled with graves, bones, crosses and cemeteries. And after Halloween, just a couple of days later for Day of the Dead, the venue was updated again with fluorescent beasts and sugar skulls right on top of that Halloween cemetery mural.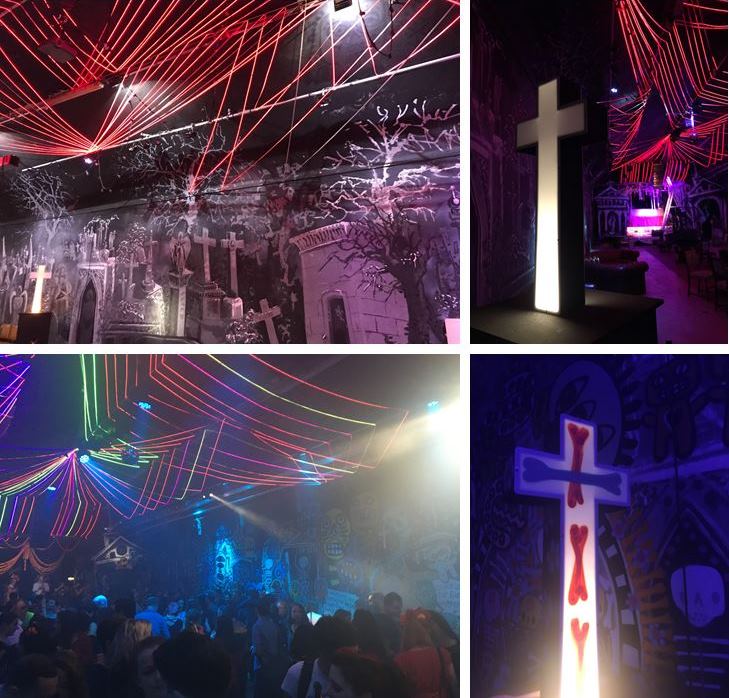 We can't wait to see the next project taking place at The Vaults. Whatever it is, we know we won't be disappointed. What do you think of The Vaults? Let us know on Twitter! If you like this blog, you'll love our newsletter, sign up here.