If there's one Christmas tradition the Mask team can't celebrate without it's a trip to one of the capital's magical winter destinations – the pop-up ice rink. But not everyone is enthralled by the thought of an afternoon on the ice.
Some may not know how to glide effortlessly across the ice with the elegance of an Olympic skater. They may not know the tricks of the trade, from maintaining perfect balance to completing flawless pirouettes. And that's where our 'how to' guide comes in. These tips will enable anyone to look good on skates. Yes, even you.

Dress to impress
Ice skating is no walk in the park. You could fall. You could get cold. You need to take precautions. So make sure your clothing is skate-friendly, flexible and warm. Don't wear jeans.
Squat
It's the best way to build strong thighs and practice your balancing technique. Stand up straight with your feet at hip distance and arms out in front. Squat until you find your center of balance and repeat.
Take a walk
Before hitting the ice its best to get your skates on and take a stroll around the rubber-matted practice area, most ice rinks have these. Here you'll be able to get comfortable on your skates and adjust to this new balancing act.
It's all about the balance
Once you're on the ice keep hold of that wall. You'll get a feel for the ice without risking any balancing issues. Once you're confident let go, but keep it slow. Remember that the faster you go the easier it is to balance, so if you can master skating at slow speeds you'll be away in no time.
Relax
It's harder to skate if you're a nervous wreck. It'll make you stiffen up, straighten your knees and before you know it you'll be plummeting to the ground. What you need to do is relax. Keep your body upright, your core strong and ooze confidence, or at least pretend to.
Fall with effortless grace
You probably will fall once or twice, but have no fear. If you're feeling wobbly just sit down – don't fight it. Bend your knees and stay low on the ice and you'll avoid any nasty bruises. Keep your hands close too.
No tippy toes
Starting to trip? You might be 'toe-picking'. To avoid it all you need to do is make sure your blade is level when it hits the ice, so your toe pick isn't going down first.
Learn to stop
Make sure you know how to stop before you up the speed. You'll need to bend your knees slightly inward and push out with one or both of your feet, keeping a bit of pressure on the ice so your feet don't slide off in an alarming fashion.
Get ambitious
Now it's time to push your ice-skating prowess. As balancing becomes second nature to you you'll be able to take longer strides, and before you know it you'll be gliding across the ice with all the style and grace of a champion figure skater.
Practice makes perfect
You won't be a pro from the start, but if you keep practicing you just might be by next Christmas. You could even hire a professional coach if you want to take it to the next level. Lessons are available at the Tower of London, Hampton Court and
Somerset House
.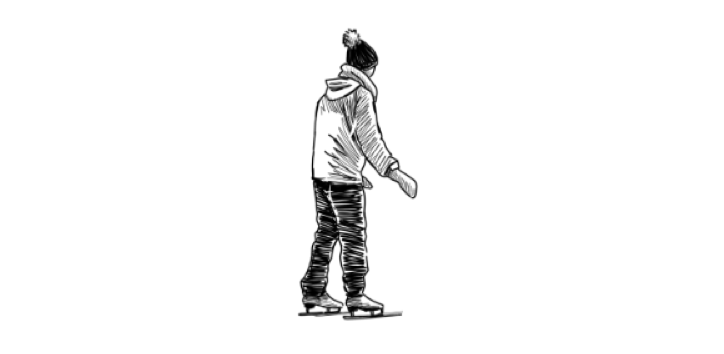 Now it must be time to get those skates on, here's where you can perfect those skills this winter:
Somerset House
Until 5 January.
www.somersethouse.org.uk/ice-rink
Natural History Museum
Come and experience our sister company Create at the Ski Lodge themed café and bar
Until 5 January.
www.nhmskating.com
Hampton Court Palace
Until 12 January.
www.hamptoncourticerink.com
Tower of London
Until 5 January.
www.toweroflondonicerink.com
Canary Wharf
Until 16 February.
www.icerinkcanarywharf.co.uk
Mask specialises in bespoke events like no other. Our creative team thrives on delivering bold, innovative responses to client briefs. 
Contact us
 to find out more.