Hi I'm Eleanor; check out my top tips for a city break in Barcelona!
I recently spent a week in Barcelona and would recommend it for all year round. I will certainly be returning, as it has quickly become one of my favourite cities in Europe. I love giving recommendations for city breaks as it is easy to get overwhelmed, especially when trying to fit a lot in a short space of time. So do enjoy a few of my favourite spots that I discovered!
The perfect lunch spot: Cotton House Hotel
The Cotton House hotel is in the former headquarters of the city's cotton guild and this has been reflected perfectly in the space. Within the hotel, there is a beautiful terrace that feels like a hidden gem within this huge city. The terrace has a tranquil feel to it and the outstanding service leaves you feeling like a celebrity. Overall, the Cotton House Hotel is absolutely stunning and somewhere I would only dream of actually staying – as I sipped on my Aperol Spritz.

Source: hotelcottonhouse.com
The rooftop bar: Hotel Ohla
When looking for rooftop bars in Barcelona it can be incredibly overwhelming. After attempting entry to the 'best rooftop bars in Barcelona' and being denied entry due to them being fully booked, we stumbled across Hotel Ohla. The outside of the building is incredibly interesting, being covered with giant eyeballs- we didn't quite know what to expect but thought it would be worth a try. We ended up being so pleasantly surprised, as we drank Spanish wine amongst the rooftops. With a view overlooking an infinity pool and Barcelona, you really do get the best vibes from this bar. I would definitely recommend going here to see the sunset over the rooftops!

Source: ohlabarcelona.com
The Cosy Resturant: Marmalade
This was a recommendation from a friend that I now feel I need to shout about. It is the big sister of the 'Milk bar & Bistro' known for the 'best brunch in Barcelona'. Marmalade was a furniture store for 50 years, and gives a nod to this through its opulent décor that leaves you feeling fancy and cosy all at once. The cocktails are fantastic here, and the food even better- they even have signs declaring they have the 'best chicken wings in town' and I completely agree! This is a really cool spot in Barcelona for any occasion.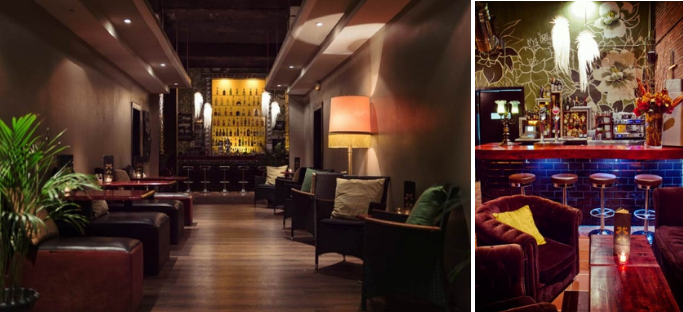 Source: marmaladebarcelona.com
I hope you enjoy my recommendations! Tweet us your favourite city spots! Ellie xx