Who doesn't love Christmas? It's a time of year for people and teams to come together, enjoy a slap-up meal and an array of delicious drinks, share stories of the year that's passed, and look forward to the one to come. Christmas parties are, for many, the highlight of the corporate calendar, and they're the perfect opportunity to give your staff a real treat and a memorable slap on the back for all their hard work and dedication.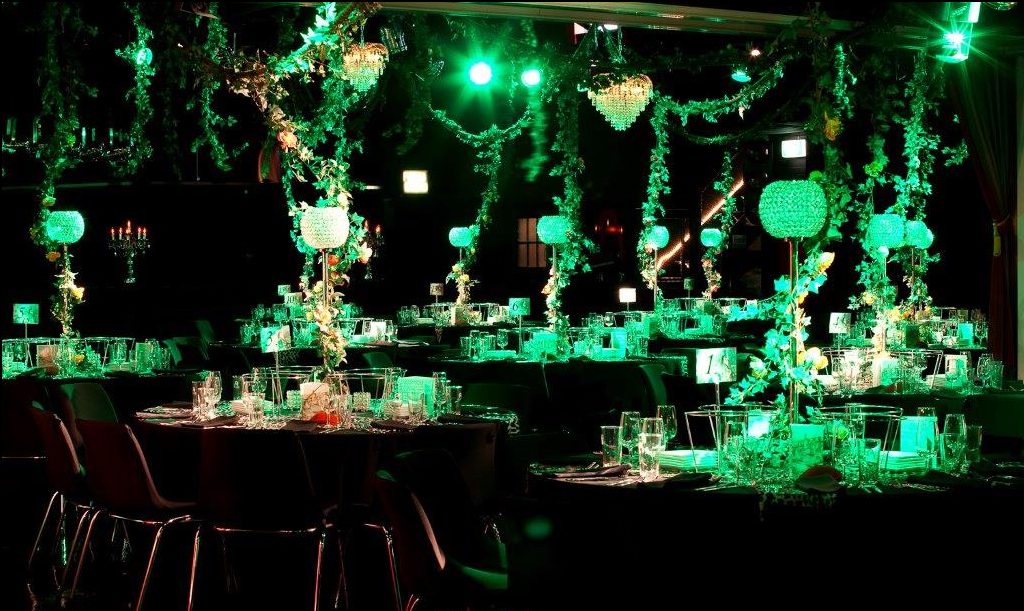 However, all too often, Christmas parties fail to really live up to expectations. Here at Mask, we've seen more than our fair share of underwhelming festive events, where little effort has been put in, and the Christmas spirit dissipates from the room faster than Santa comes down the chimney. That's really not on… especially on a night when everyone is supposed to be having a great time, and indulging themselves in plenty of festive cheer!
Thankfully, we've got the solution for anyone struggling to come up with a Christmas party concept that's really going to resonate for a long time. Bespoke Christmas party themes are the perfect way to really let your imagination run riot, and to show that you genuinely care about giving your attendees and team members a night to remember.
By aiming high, going ever-so-slightly overboard with decorations, and pulling everything together with a delicious meal and some top entertainment, you can throw a Christmas do that's going to have your guests smiling from ear to ear.
We love it when events planners and corporate party organisers let loose their creative talents for a Christmas party. In this blog, we're taking a closer look at five bespoke Christmas party themes that are sure to raise the roof… so pay close attention, and think about how you can incorporate some of these ideas into your big end of year bash!
A Nightmare Before Christmas
Just because Halloween has been and gone, it doesn't mean that you can't bring some spooky, kooky, gothic-tinged fun into your Christmas party! Christmas isn't Christmas without a ghost story or two, so bring some Victorian-inspired darkness to your do with a Nightmare Before Christmas theme, and wow your guests with your inventiveness and bold choice of concept.
Decor: It goes without saying that decor for this party concept should stay on the sombre side of the colour palette. Black velvet drapes, black, white, red, and purple decorations, hundreds of candles and skull motifs… you really can let your imagination run wild with this theme, and bring out as many spooky accessories as you wish!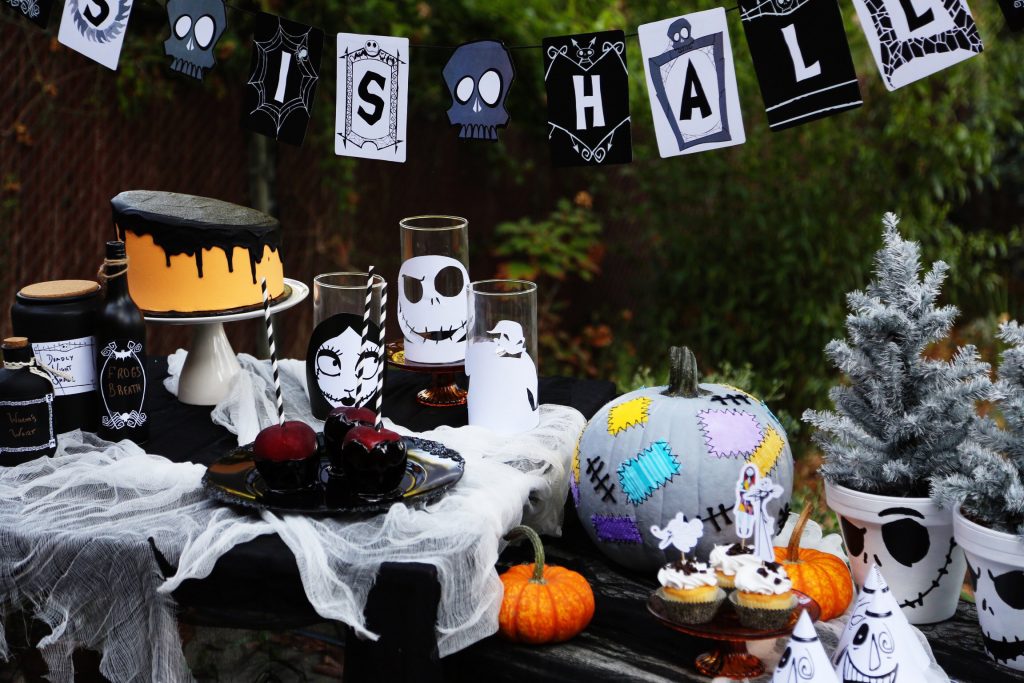 Food and Drink: This party concept deserves a proper Charles Dickens' style Christmas feast, including roasted meats with all the trimmings. Find some vintage hors d'oeuvres recipes and have them served from silver platters (bonus points if served by a zombie butler…), and make sure you have a steampunk-style mixologist on hand to serve up some weird and wonderful cocktails.
Entertainment: It would be a shame not to bring in a string quartet or other classic form of entertainment for this event, especially if they're able to play some waltzes or other dances your guests can try. If not, a magic show or horror-themed disco would work brilliantly, too!
Alice's Christmas Wonderland
Fall down the rabbit hole with this brilliantly strange and hallucinogenic bespoke corporate Christmas party theme. This is all about providing the unexpected, the bizarre, and the fantastical, and making sure your guests never quite know what's waiting around the corner!
Decor: You can look to the several movies and books recounting Alice's adventures in Wonderland for inspiration, but so long as things are kept suitably psychedelic, you can't go far wrong. Again, there's a vintage feel to this theme, so any Edwardian touches (candles, gramophones, taxidermy, etc) works very well indeed. Make sure there's a dedicated tea party corner, where your guests can enjoy some strange cocktails or tea cakes, too!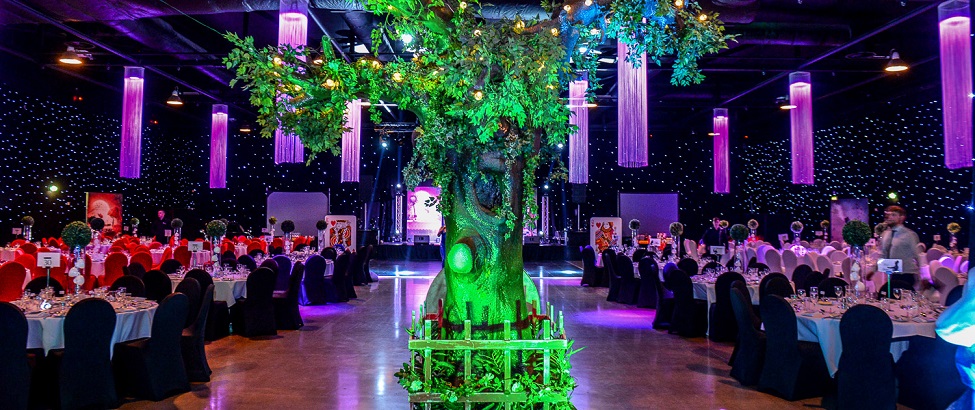 Food and Drink: Go totally wild with the latest and most innovative trends for food and drinks catering for this theme. Dive into the world of molecular gastronomy, bring in someone making fresh nitro-ice cream (which comes with plumes of dry ice!), or set up a flavoured bubble volcano or shisha bar. Tea-based cocktails are also, naturally, going to be a winner here (check out these top recipes), and don't forget the jam tarts.
Entertainment: To really up the ante when it comes to your mystical, magical Wonderland theme, it would make sense to have a magic show as part of your entertainment package. Get a magician who specialises in mentalism or vintage magic, and watch the mouths of your attendees drop open in amazement!
Back to the 90s For Christmas
It's back to the decade that taste forget for this popular corporate Christmas party theme. Think loud colours, mountains of pop culture references, and plenty of fun and games with that unmistakable 90s vibe, and you'll be ready to offer a totally radical and bodacious party that Bill and Ted (and the Wyld Stallyns) would be proud of.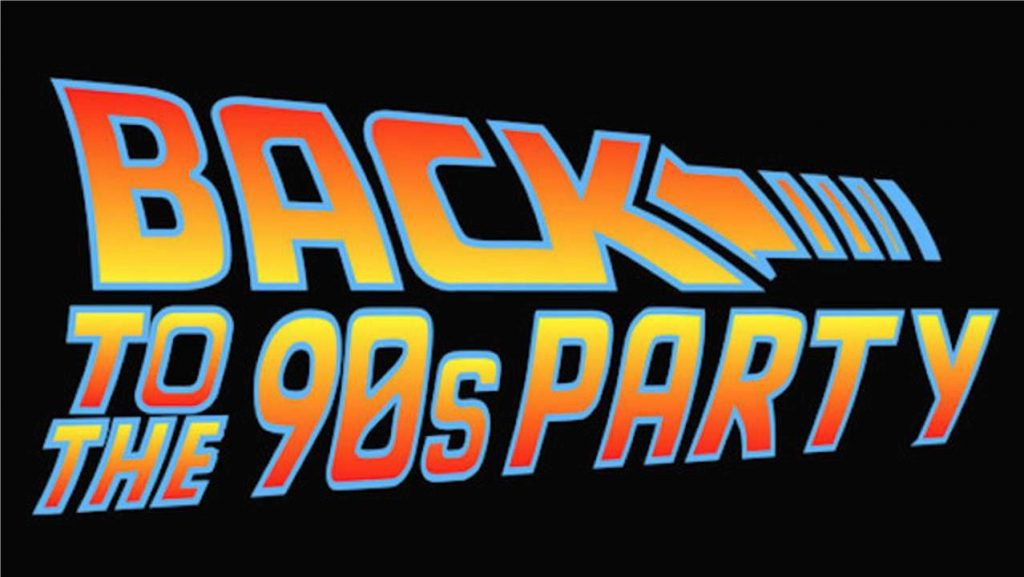 Decor: Do we really need to spell it out? The nineties was all about packing in as many colours and patterns as possible into absolutely everything, so make sure there are enough neon lights and brightly coloured items in your events space as possible. Throw in some inflatable armchairs and a chill out zone (complete with hammocks and a William Orbit CD), and everyone should have a most excellent experience.
Food and Drink: The nineties wasn't a particularly remarkable decade for food and drink, so you can probably get away with serving fairly classic Christmas fare if you're having a sit-down meal. However, it would be great to set up stations at your event with soda streams, Mr. Frosty snow cone machines, and other retro treats for your guests to enjoy. Offer a boozy Slush Puppy machine, and they'll be talking about your event for the next decade!
Entertainment: For this event theme, it would be unthinkable not to host a disco or a 90s covers band, rocking out to all your favourite hits from the era.
A Very Millennial Christmas
Millennials seem to be the butt of all too many jokes, but in reality, they're the real movers and shakers on the scene right now… and if you work with corporate teams in 2018, it's likely that half of your staff would count themselves among this generation. As such, there's no harm in wholeheartedly embracing the styles and quirks of millennials, and turning them all up to eleven for a Christmas party to remember!
Decor: Millennial style is all about bricolage, and putting together seemingly random collections of items or themes, to produce a unified whole that defies expectation. Now, that's not the easiest of concepts to replicate for a Christmas party, so you might be better off just sticking to a fairly retro style which involves lots of pastel shades, pink (millennials can't get enough of pink), and the kind of things you'd see in a trendy coffee bar. Simple!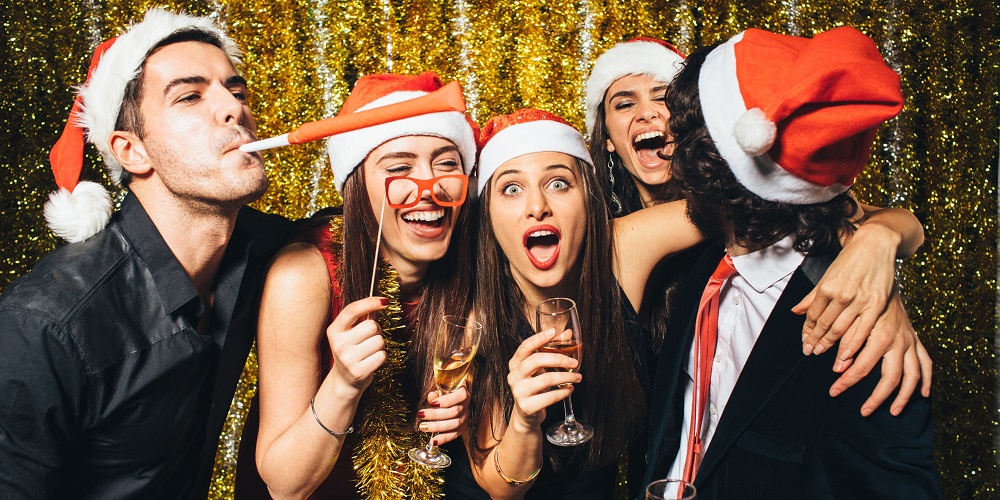 Food and Drink: Millennials tend to be pretty clued up when it comes to the latest trends in food and drink. One of the big industry trends over the past ten years has been the resurgence and refinement of street foods from around the world – especially Mexican, Korean, and Middle Eastern street food dishes. Bring in some market stall-type vendors, and get them to whip up some trendy Berlin-style kebabs, or posh burgers, grilled cheese sandwiches, and cronuts. Add a gin bar into the mix, and everyone should be as happy as can be!
Entertainment: This generation seems pretty keen on arts and crafts, which opens up loads of opportunities for activities and games to get into during your event. Set up craft corners, or places where your guests can paint their own Christmas decorations or learn how to make decorations to take home with them. The Crafty Hen has some great ideas for craft exercises for events. Alternatives could include mixology lessons, or photography competitions.
A Northern Lights Nordic Christmas
From Nordic Noir television to the rush of trendy Scandinavian-style cafes that have popped up in London, it's fair to say that Northern Europe is having something of a renaissance right now. This is an ideal theme for a bespoke corporate Christmas party, as it immediately invokes frosty snowscapes and fashionable, minimalist style that's bang on trend right now.
Decor: Keep things clean, minimal, and elegant for this theme, and your guests will doubtlessly be impressed. If you can bring in some classic items of Swedish furniture or design features, such as these, then all the better. If you fancy being less minimalistic (it is Christmas, after all), then go full-on winter wonderland with ice sculptures, fake snow, and a fully-loaded reindeer sleigh.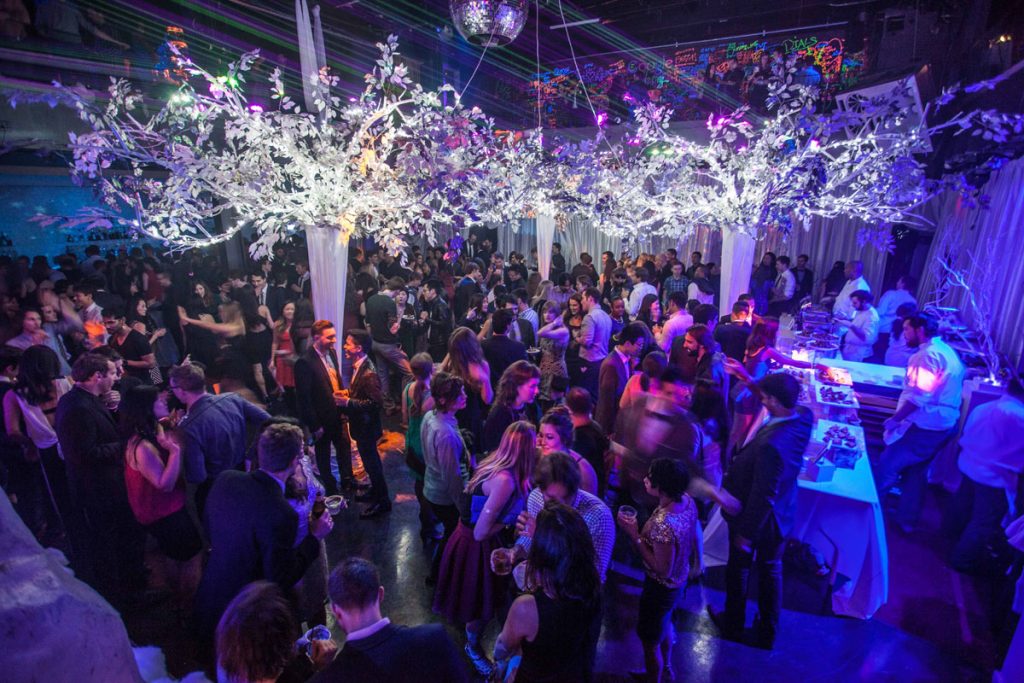 Food and Drink: Scandinavian cuisine is, frankly, among the finest in the world. The New Nordic Food Manifesto has changed the way top restaurants across the globe source and cook their meals, and it's all about seasonality, regionality, freshness, and cleanliness of flavour. No doubt you'll be able to find some superb examples of Scandi food to serve to your guests, from warm cinnamon buns to reindeer stews, open sandwiches and carrot cakes. Yum! Finish it all off with some aquavit cocktails, schnapps, and mulled wine, and you'll have a Nordic feast fit for a viking king.
Entertainment: It would be to miss a trick not to include some kind of aurora-inspired light show or projections as part of your entertainment package. You could also put on an ABBA-centric disco, too, to complete the Scandinavian theme.
Bespoke Corporate Christmas Parties: Taking Themed Fun to New Heights
There's no doubt that a bespoke, themed corporate Christmas party is a surefire way to ensure maximum engagement, the ultimate in fun, and the kind of get-together that will zip its way across social media, and stay in people's memories for years to come. Just by choosing a theme and running with it, you can really create a truly immersive experience that will transport your attendees to new worlds of excitement!
Here at Mask, we love few things more than a great themed Christmas party, and we're always impressed by the ingenuity of what event planners get up to. If you'd like to hear more about what we do in the events industry, and why we're considered a top-notch provider of events, we'd love to hear from you! We're bursting with ideas, and we can't wait to share more of them!