We're sticklers for eating at Borough Market (and talking about it a lot) and it's somewhere we visit even more now with the addition of El Pastór in the railway arches. Granted, this was an arrival about 12 months ago, but we've been on many occasion now and it's always glorious.
For those who aren't in the know, El Pastór is a Mexican taqueria serving freshly made tacos and Mexican delights every day. It was created by Sam and Eddie Hart (the brothers behind Barrafina and the dreadful no booking rule) and Crispin Somerville. The trio actually started out managing a bar and club in Mexico City called El Colmillo but had a hankering for tacos, so came back to Blighty and the mighty El Pastór was born.
As we've said, we've been here more than a few times now, and whether we go for a firm favourite from the menu or pick something new, we know we're guaranteed a treat. Everything we've eaten results in a mumbled (while we rudely speak with our mouth full) "oh my God, this is amazing". They bring chefs from Mexico to train the chefs here, and send out chefs to Mexico for training sessions, so this is as authentic as you're going to get. No we haven't been to Mexico, but this is the best Mexican we've been to in the UK.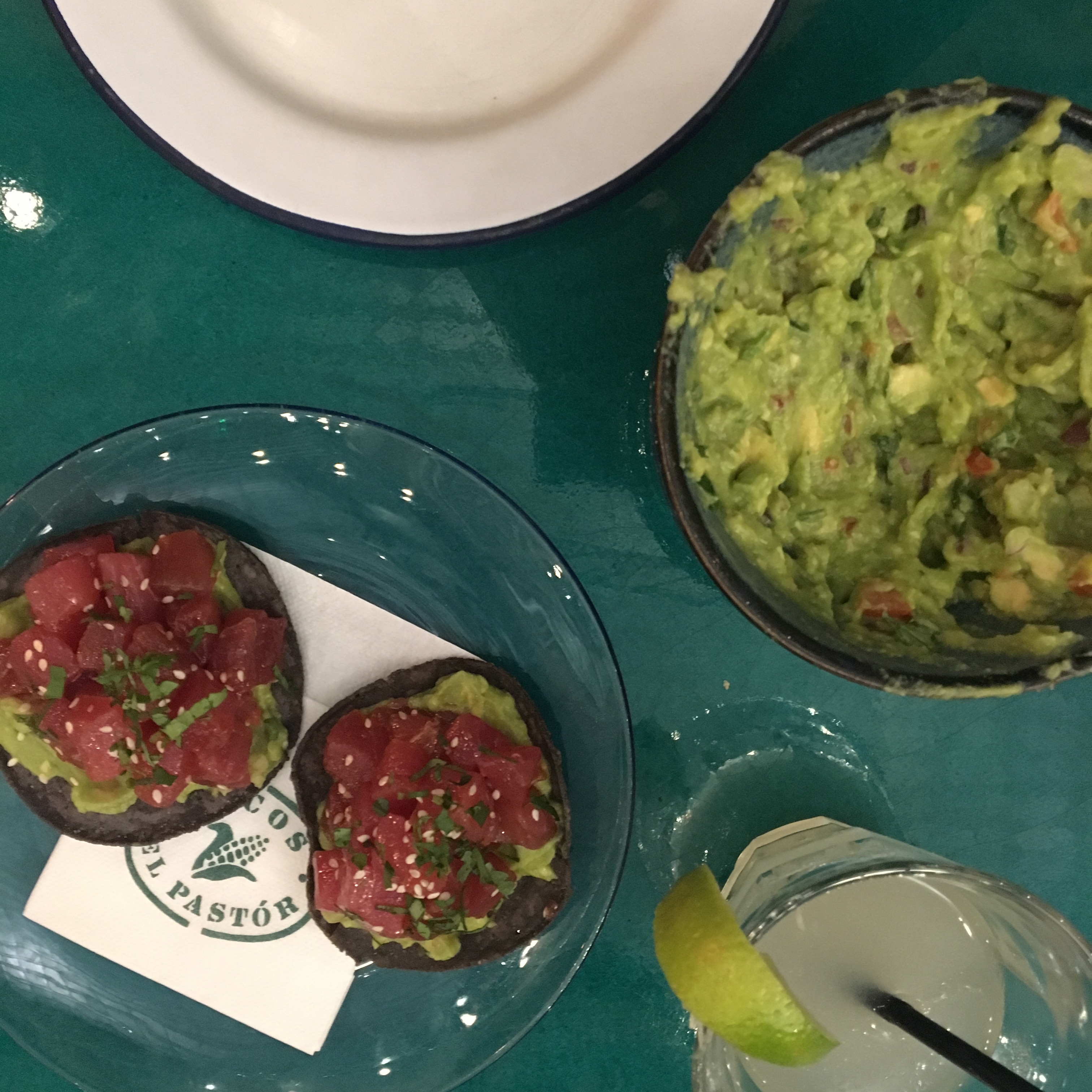 THE MUST HAVES
Guacamole with totopos (nachos) or Chicharron (pork scratchings).
If you don't get through two bowls of guacamole we'll be surprised, try both sides!
Sesame tuna tostada with avocado and chile de árbol.
Crunchy, messy, with the freshest purple tuna and a bit of a kick. We can't stop at two.
Al Pastór (what the place is named after) includes 24 hour marinated pork shoulder, caramelized pineapple, guacamole taquero, white onion and coriander.
Just beaut.
Short rib with guajilla rub and salsa La Maya.
This is a sharing plate and the one we always make a beeline for. We always get the roast bone marrow on top too.
Frozen margaritas.
The danger with these is they go down like slush puppies and are pretty potent, but we love them!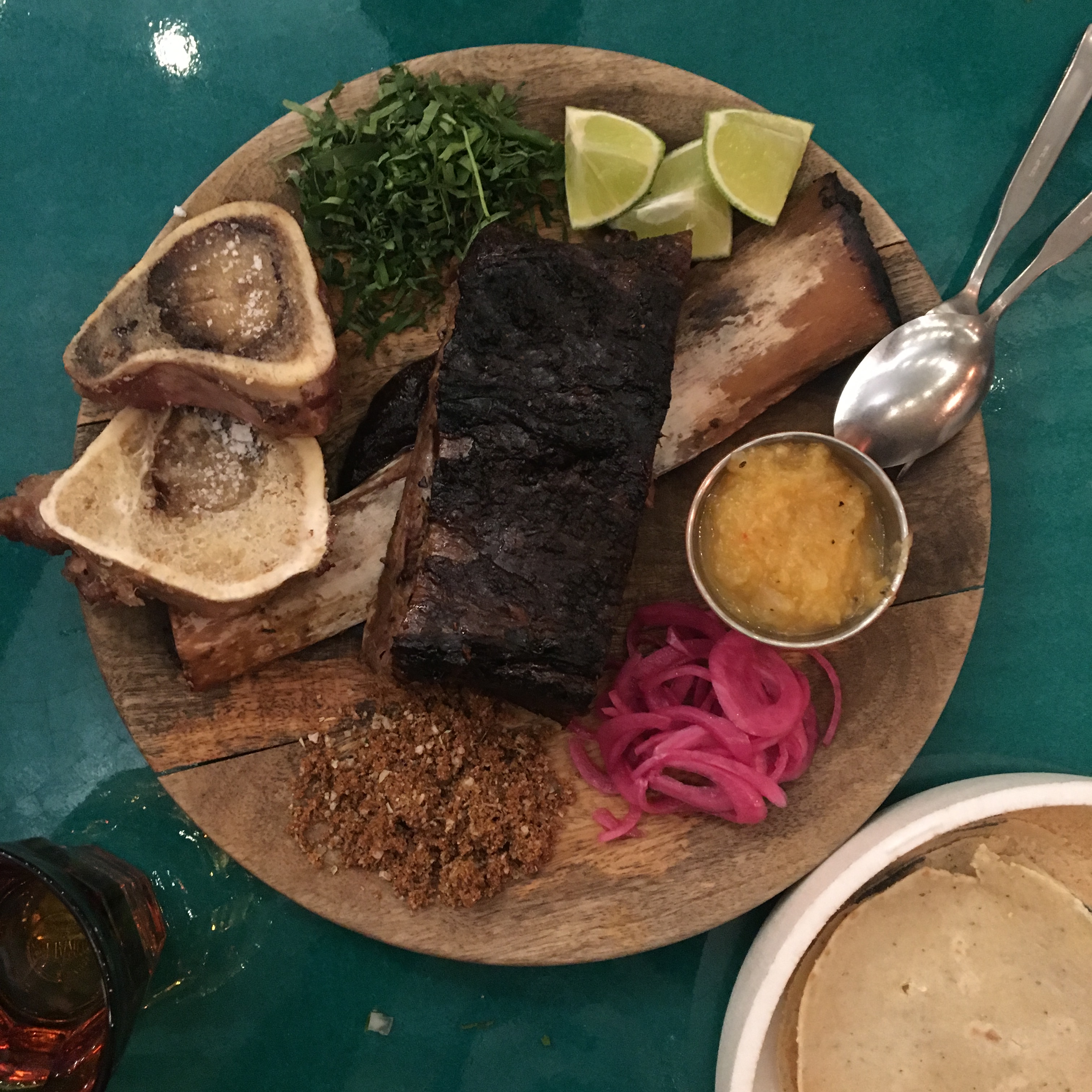 MEZCAL
El Pastór also has an excellent mescal menu. If you've never tried it, this is a good establishment to give it a go. The staff here are lovely and will recommend anything from the food menu or mezcal list.
Think of mescal like a smoky, more flavoursome tequila. It can also be distilled with up to 30 different plants, so it's like a Mexican gin with all its firey botanicals! Mezcal is 90% proof, so if you shot this, you'll be on the floor.
We'd recommend a small sip and then swish around your mouth, yes this burns but the next sip will be a dream.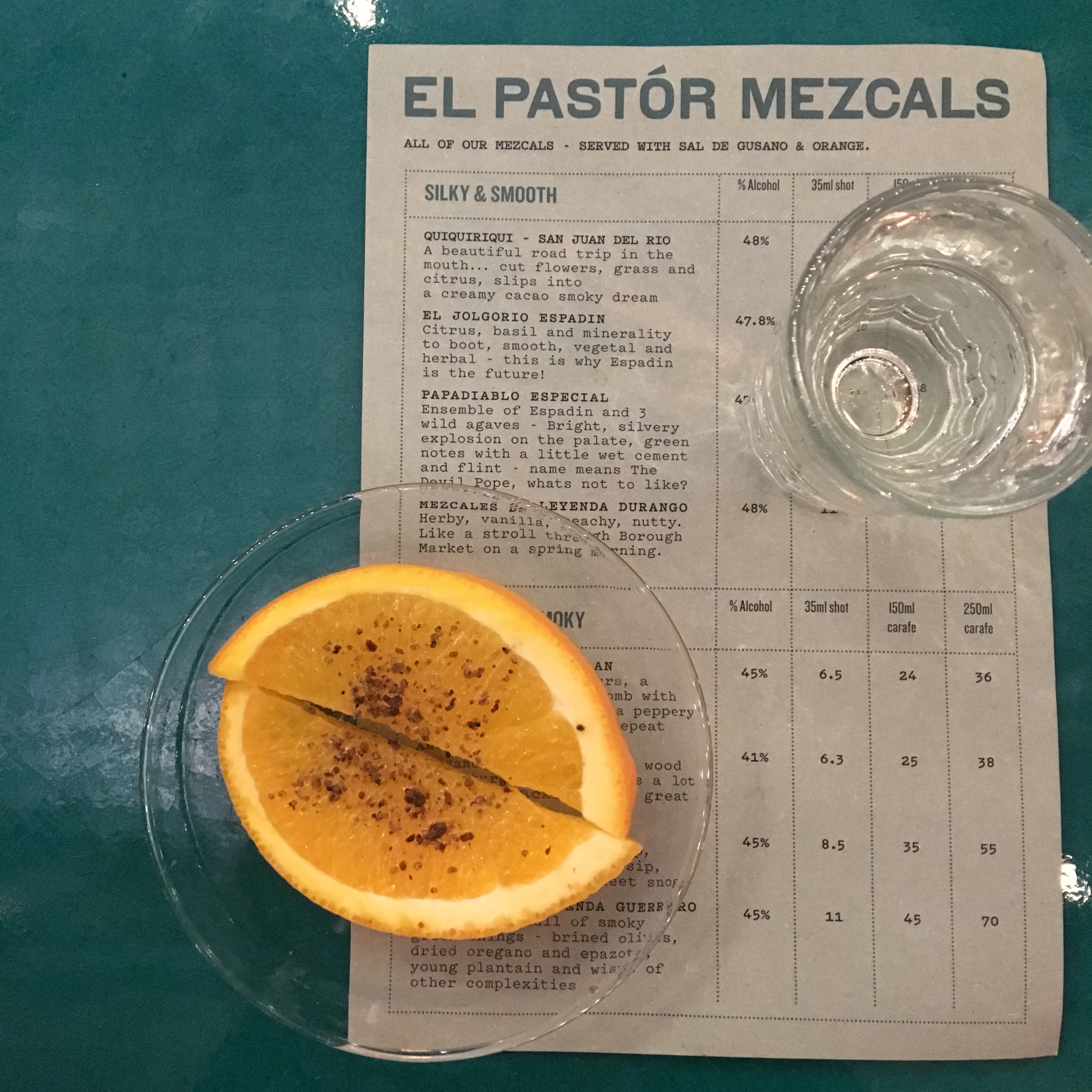 We can't recommend El Pastór enough. Yes there's no booking, which in our opinion is a downside, but what are you going to do? You can't boycott it; you'd miss out on all those tacos! If you arrive at 12pm for opening there's never a long queue and give Sunday's a try too.
Have you been to El Pastór? Let us know on Twitter. If you like this blog, you'll love our newsletter, sign up here.