Our sister company Create have recently developed a partnership with Adam Byatt which is very exciting for all at Concerto.
This 'Truly British Chef' invited MASK to Trinity (his restaurant in Clapham) for an evening to sample some of his culinary specialities and to find out what kind of wonderful things we can add to our events.
We started the evening with Jerusalem artichoke soup which was like sipping on moreish light fluffy foam, followed by scallop ceviche with pickle and charred cucumber.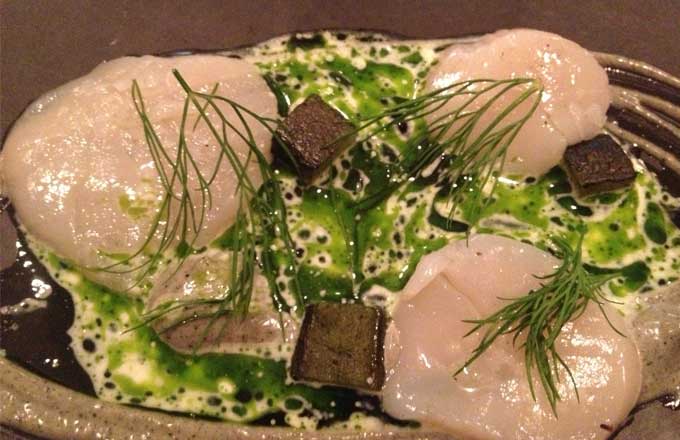 Each course came with a presentation by Adam Byatt himself explaining how he cooked the dish and why. The third course was Salt baked Sea Bass which was brought to the table and cracked and filleted in front of us. Being a big fan of fish, this was just divine and cooked to perfection.
Adam Bayatt is renound for British cooking and reviving classic dishes, this was truly reflected with his next course – BBQ Beef fillet; BBQ'd in the kitchen then carved on the table. For someone who doesn't eat red meat even I can vouch for how succulent and tasty it was. Served with TRUFFLE baked potato – anything with truffle in it is a winner in my eyes!
After four courses you think we would struggle to eat anymore, but at MASK when offered sweet treats we find it incredibly hard to say no! We were presented with the largest apple souffle I have ever seen and salted caramel macaroons which we of course devoured!!
I left full, content and incredibly excited about Create's venture with Adam Byatt. Experiencing the food first hand I have to say I am even more excited that Adam has partnered with us and look forward to introducing our clients to him. Adam will design menus for top end events, talk us through the food at tastings and be busy in the kitchens on site before talking to guests. With huge competition in the events catering arena we feel that this is a great venture which allows us to offer something different and we can't wait to taste more of his food.