The Boots No7 and Botanics US Press Trip was a dream project to have taken part in. The events were in two completely different venues over two days – The Westbury Mayfair for No7 and Kew Gardens for Botanics and the overall theming was completely different for each which really let our creative juices flow!
Being part of production team I am involved in the orchestrating of the event and making things happen! It is one thing imagining an event but when it comes to putting it together there are a lot of considerations which play an imperative part in delivering the concept exactly the way it was pitched and in line with what the client is expecting. This is where you have to get curious and question how everything could be achieved. The following details a few points that we had to really think about: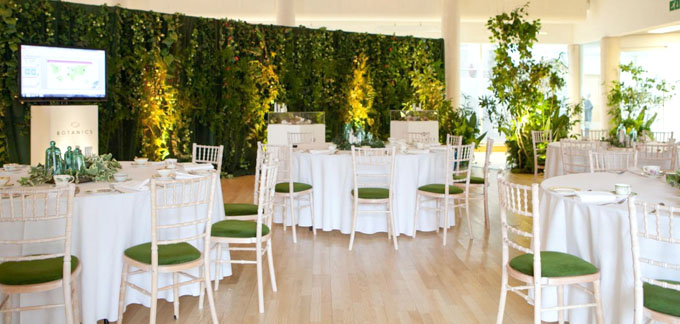 How will that actually work?
For the Botanics 'Living Wall' idea it was necessary to calculate the amount of garlands needed to make a statement in the room and how they could hang to the floor over the 14m long and 3m high space. We ended up sourcing over 300 garlands, intertwining them onto a velvet green rouched draped structure which all in all took 2 days to fully create and suspend!
Could we brand the space and the objects inside?
For both projects, promoting the brand was key, so we had over 50 vinyls made which we had to pre measure to fit on certain surfaces, containers and walls on a low tac adhesive in order to not damage any of the venue surfaces. This took a lot of trips to measure up the venues but it was worth it as they looked amazing and very much showed off the brand!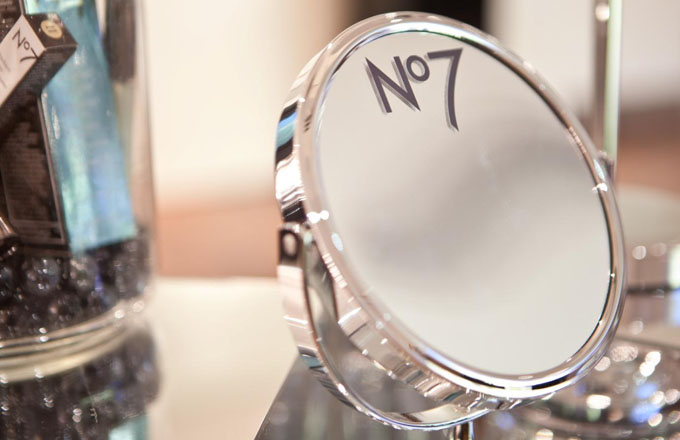 How do we reference missing products?
At a product launch it's not always possible to have every single product present. For the No7 event we didn't have all the range of products available to us so we sourced every items' pantone for the guest speakers to be able to make reference too, there were over 100 pantones printed in total.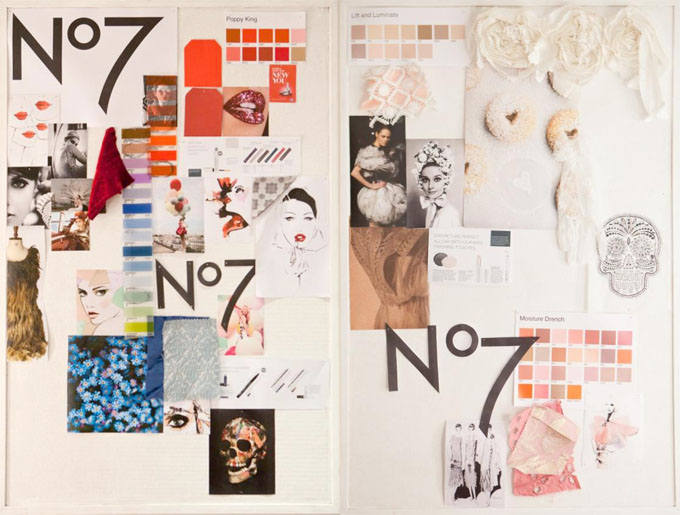 Where do we put that?!
15 large boxes of product were sent to our offices from New York which we then had to rearrange to ensure we had everything needed for the launches. We also had to measure all products and then design the vinyls and presentation spaces around them. As you can imagine this took a lot of preparation time! We also had to arrange for all this product to be returned to New York, and that meant repacking everything!
How can we present these products in the best way?
For the No7 event we had over 25 ranges with full colour and style ranges within these, in total we essentially had 1000s of products to display which presented a huge challenge in itself. We designed an idea of a display cabinet but we soon realised that we needed bespoke cabinets made, however this meant measuring each item individually and calculating how big each shelf needed to be and what should be placed in each space. We also had to ensure the service lift could fit these structures otherwise there would be no way of getting the cabinets into the event space. Very complicated but it looked amazing!
Where do you need to be?
Logistically the project was difficult, having the No7 event take place on the 16th Jan as well as the Botanics setup, the whole team needed to be briefed on where to be and their responsibilities. This was also hard when essentially I was responsible for both events but had to split my time between the two. They were projects so close to my heart that if I was going to delegate it would be with military precision!
How do we add to the brand?
We have a fantastic relationship with Boots and we are given a lot of freedom to be creative. As the brief for No.7 was 'backstage' we pitched an idea to allow guests to see behind the brand by generating visual moodboards on bespoke stands depicting where Boots get their inspiration from. We liked the idea that this would have been how the designers approached the development of the products. These not only had to be approved by the client in America but had to include idols such as Audrey Hepburn, publicity campaigns, photo shoots and pantones in the current collection for guests to reference. They also had to be constructed in a way which wasn't chaotic but had a lot of creativity behind it. These had to be redone more than a few times and there was always something new we could add it!  We also had the challenge of sourcing all the props, a tough task as it was important they fitted the look and feel of the brand an environment. Arranging and designing the displays was so much fun and the client was thrilled with the results.
I know that my insight may come across, in some ways, overly curious in determining how we can achieve a brief to its full potential but the considerations really can be endless on projects, especially those like Boots which are so bespoke and imaginative. We adore attention to detail and we love to surprise our clients, so the planning is meticulous but completely worth it.
At MASK we recently found a saying which I think sums it up perfectly, "Curiosity is the spark behind the spark of every great idea. The future belongs to the curious."